I had a dream about miniatures last night- there was a little, smaller scale, dollhouse, that was three levels, and some of it was two rooms deep. It was a bit splintery, but it was selling for $2 and I was trying to decide if I should buy it- not that it wasn't a bargain, but I wasn't sure if I'd be able to kitbash it well enough to do anything with it. Also it was a totally different scale than my usual- my plan was to sell it on Etsy. I was trying to work out what era I'd make it, when I woke up.
http://www.yousendit.com/download/bVlDL0dObTgwZ25IRGc9PQ
Here it is to download for free as a pdf! (though if you did want to donate for my time, check my shop)
I encourage everyone to download it! Print it out, leave it around in buses cafes and libraries, send it with listings, hand it out at shows!
It includes articles about crafts, inspiration, hobbies and Etsy. It also includes advertisements.
It looks fine in colour or in black and white.
Just my contribution to Etsy and Etsiers. :)
And if you could tell me how many you print out/leave around, I'd love to know for curiousity's sake.
A week or so ago I was going on about the Etsy Zine I'm making, and asking for donations of articles, as a way to advertise yourselves and Etsy in general. Well tonight I finished it.


I thought I'd start up an entry about that, and in the comments you can tell me what you're after. And if I can make any of them I'll try. (And other people can 'take' the ideas too! So, don't limit it to the sorts of things I can make)

As always guests can post!
What miniatures are you wishing for right now? What would you really like to find to buy, either online or in shops? Or things you really want to figure out how to make?
At the miniatures fair, I volunteered for two separate hours doing of course, polymer clay work. I've been volunteering doing that since I was about 13 or 14 years old, every year. It's great fun! I'd recommend it to anyone who can do it -you get to have people crowding around and watching you do your thing, ask questions, help them out, and sometimes make a sale or hand out business cards! Plus it was helping out my club. This year, I sneakily left some fliers I made for Etsy, on the volunteering table, even when I wasn't volunteering. And LOTS of them were taken.
I think people really like it when they see a 'young person' volunteering. Sure, I'm not a kid anymore, but it's still good for them to see, I think, that it's not all retired ladies.
This year, I had my business cards in front of me. I had when I was about 16 as well, but no one ever contacted me about anything. This year I had a website, so, I hope that someone did go and have a look at least. I also decided to give free samples. For several days before the show, I made candycanes (also available for sale on my Etsy shop) and I had some in a box in front of me, with a sign saying "Please take one, they're free!" I encouraged as many people as possible to take one. Of course I had forgotten that many wouldn't have had anywhere to put it! Some little girls were *totally* thrilled about it. A few little girls sneakily came back for more a few times- lol did they think I wouldn't recognise them? And lots of the adults were very impressed as well.
I had been expecting to have to explain to some children that no, you can't eat them. I hadn't been expecting the adult woman, who took one and put it in her mouth. I heard her bite it in half just as I shouted "YOU CAN'T EAT IT!!" I think we both died a little there.
Though me handing out real food makes no logical sense, at least I know it looked realistic?
New products for today: A Father's Day sculpture.
http://www.etsy.com/view_listing.php?listing_id=14705648
I also have miniature fried eggs, and some Pastafarian Christmas decorations.
Free Counter
I said I'd tell about this, so, now, I will!
Also what's interesting is that my Mum and Dad and brother (and my friends!) seem much more supportive of it now. My friends were supportive from the start, but now I'm proving that I can actually make enough money on it to pay back the listing fees/paypal fees/selling fees, my family seem much more enthusiastic. They've always liked my *things* I mean my Etsy experience. :) And I've got a stronger feeling I can 'do' something with this whole Etsy thing.
I also was shocked that I'd only put the item that was custom ordered for five more of the same, up yesterday!
I've got some interesting new items as well, such as a jade skull.
http://www.livinginthepast.etsy.com
I'm so pleased to announce that I just got my first ever custom order! :D I am so excited by this, it feels like an honour to be asked to make something. I got everything made within 24 hours of receiving the order too, and I plan to send it off tomorrow. Let's hope I'm able to keep doing it so promptly in the future- though I guess they will have to understand that we have lives too.
Now, on to the interview!
1. What do you make, and why?
I make a lot of things, but mainly purses, stationery, and other gifts. I'm beginning to dabble in quilting a bit. I have a degree in drawing and painting from Arizona State University, and when I first started out, I thought I was going to be painting or just working on stationery, but then I bought a sewing machine about seven months ago, and a whole new world opened up! With a little help from my mother-in-law, I taught myself how to sew, and discovered a growing passion for it. I have always had a pure love of fabric, and now I can actually do something useful with it. I can't wait to see what happens as I learn more and become more experienced with it.
http://www.lailaslovelies.etsy.com answered some questions for me today, I thought maybe you'd find it interesting!
And they're done! Two young goblin men.
I'll have photos later, my brother 'stole' the camera for his holiday this weekend. I hope you'll have fun looking at them, and if you know of anyone who needs goblins, tell them about me! (Or other fantasy peoples)
Yesterday I also made a Little Red Riding Hood figurine- did I tell you? I don't think I did. I'm branching out into figurines. Because I enjoy making them, and also that makes my audience a little wider. I'll happily make things for fandoms (as long as it's in the public domain or your own work, so that I won't get sued...).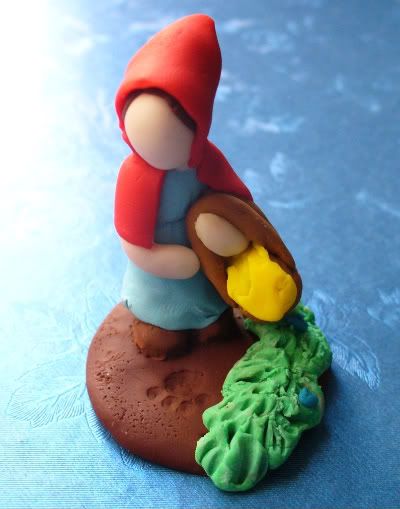 I think she's lovely, and I think she'd look fantastic in a little girl's room, or maybe your own!
I also put up a new miniature cake!
http://www.livinginthepast.etsy.com
for more photos.
Today I spent about 4 hours working on some goblin dolls. I love it when I see people doing dollhouses that aren't totally normal. And I've been reading Terry Pratchett lately, where there are Zombie Lawyers, Werewolves, trolls, golems etc. And I decided that I wanted to make some goblins. First, I had to decide what goblins look like (Other people can tell me what they look like later, and give me custom orders). I decided that this pair would be green. Splotchy green. Not sure why, they just 'needed' to not have perfectly uniform green. Their eyes would also be just plain black, and larger than human's eyes. Their ears would be pointed and they would be bald. So, yesterday I sculpted their heads, hands and feet, and today I spent the four hours making bodies, putting them together, painting their faces, and dressing them.
http://www.imaginationmall.com/
It's full of great shops!
I'm really rather pleased with myself that I remembered about Imagination Mall. I only applied yesterday, so this was very quick!
Secondly, I've put up what I was excited about the other day.
It's a preserved dragon's embryo! Perfect for witches, wizards, fantasy stuff, mad scientists, museums, sideshows, etc!
Find more pictures of it and more over
here
I'm really excited about that miniature!
First! I'm now featured on Imagination Mall- Right now I'm up with the 'added in August' section. I really hope that this will bring a lot more views and interest to my shop. If you've not heard of Imagination Mall here is the link.


Note to people who use sculpey: Liquid Sculpey is *translucent* not *transparent*. I learnt that the hard way today. Also, icecream making is going well!
I'm very excited about a new range of things I'm bringing out in the next few weeks! Keep a watch out for my dragon/fantasy world related items- they're a little different. Though perhaps a little morbid.